My Personal PRP Experience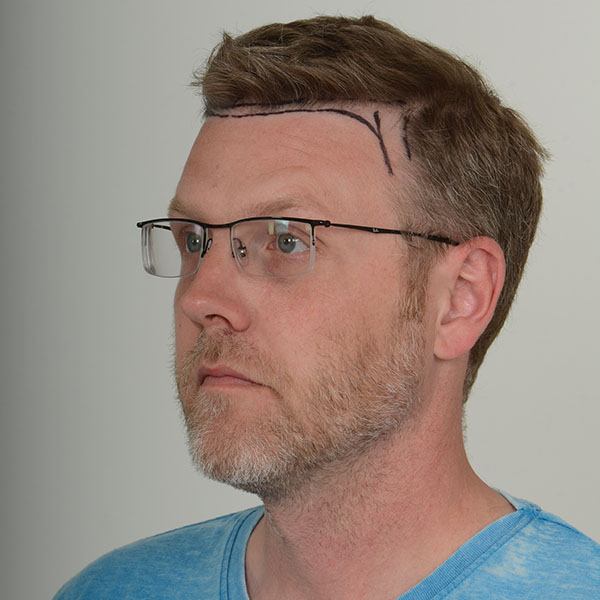 We are seeing some great results from a new treatment for hair loss called PRP, or platelet-rich plasma therapy. PRP draws blood in the same way as it would be done if you were going to donate blood or get blood taken for a blood test. The vial of blood that is drawn is then placed into a centrifuge and spun for 10 minutes until the red and white blood cells have been displaced and the platelet-rich plasma is isolated. Platelets in our blood are the "first responders" in our blood stream. They are what clot our wounds and regenerate skin. They contain growth factors and all kinds of good stuff that help our body heal and grow. So it only makes sense that when this PRP is injected back into the areas where our hair follicles have become wounded, they start to regenerate, and new hair is produced.
I suffer from hair loss myself. You can read my other blog articles about my hair transplant experience. My goal with the PRP treatments was initially just to support the hair transplant progress as much as I possibly could. This also includes the Revivogen shampoo and conditioner as well as Propecia, Rogaine, and Nutrafol supplements. I did 3 full treatments of PRP spaced out over 3 months. This is the timeline that we recommend because it has been proven to have the best results.
The first treatment was done without any local anaesthetic because I wanted to see how painful it was on its own. We always want to make sure that we do not ever offer advice to a patient if we do not have the experience ourselves. The truth is that it wasn't all that painful. I am fairly comfortable with needles, so I did not experience the fear that we do see in some patients as far as this was concerned. The main complaint and downfall that I would have with this treatment is the "pressure" it leaves on the scalp for the rest of the day. I found that 2 Extra Strength Advils and a hot shower while I massaged the area was all it took to alleviate this though.
After the first treatment, the first thing that we noticed was that my hair started to grow faster and thicker.
I proceeded with the remaining 2 treatments. For the second one, I used local anesthetic, and it did help with the initial sting of the needles, but it still did nothing for the "pressure" feeling. So for the third procedure, I did not waste my time with it again. But I did take my 2 Extra Strength Advils ahead of time.
The result 6 months after the treatments has been great. I have to get my hair cut every 2 weeks now. The PRP also restores melanin to your hair as a side bonus. So it took away my grey hairs. The best part of the treatment that I noticed was the restoration of the thinning hairs in my crown area that have now been growing back.
Overall I highly recommend this treatment. I have also seen great results in other patients who have had this treatment.