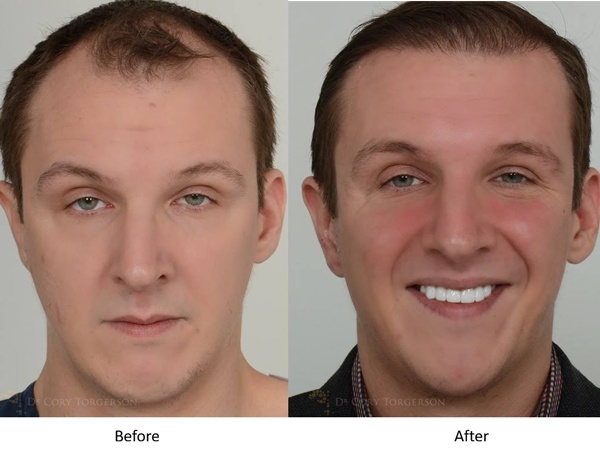 This is Ron's story about his hair transplant, including before and after pictures and 3 video reviews.
Ron has had a total of 3 procedures with Dr. Torgerson at the Toronto Hair Transplant Clinic. When he first came to us, his level of baldness was classified as a stage 4 on the Norwood Scale. He was experiencing advanced hair loss in his frontal hairline and temporal lobes and moderate hair loss in his crown.
His hair restoration plan consisted of a total of roughly 3,000 grafts to restore his frontal hairline and give him some great density in that area. It also meant that Ron could start using a combination of finasteride and minoxidil to make sure that he wouldn't continue to lose the hair that he still has. This is really the most important step in any hair restoration plan.
His first procedure of 1,011 grafts was done on March 17, 2015. These transplanted hairs were used to restore his immediate frontal hairline. Ron came back for his 1 week follow up and wanted to add more right away. So after a thorough assessment and discussion with Dr. Torgerson, they decided to add an additional 839 grafts just 11 days after his first procedure. The additional grafts were not placed in the same area and were used to add some hair further back from the original transplanted hairs.
Just over a year after already seeing great results from his first two back-to-back transplants, he decided to have a third procedure of 1,236 grafts to add more density covering his head. Ron's main concern was his frontal hairline. So we used the total amount of just over 3,000 grafts to do a full frontal hairline restoration and also to make sure that there was good density from his frontal hairline and temporal lobes back to the center of his scalp.
[ytp_video source="5Zdzu30vMxw"]
The first part of Ron's video review is taken only 3 weeks after the first two procedures. The second video is at 6 months after the second procedure, and the final video was shot just over 1 year after the first two procedures and only a month after his third procedure.
Ron is extremely happy with his results and is now considering some PRP treatments to add some more hair growth and thickness. He continues with his hair restoration plan, and we continue to have regular follow-ups with him.
Dr. Cory Torgerson is a highly sought after hair transplant specialist and facial plastic surgeon in Toronto, Ontario. The Toronto Hair Transplant Clinic with its private surgery centre is located in the heart of Yorkville in the downtown district of Toronto, Canada.
Dr. Cory Torgerson prides himself on his ability to create and achieve very natural and amazing looking hair restoration for his patients successfully and artistically. He works closely with them on either a surgical or non-surgical program to safely meet their cosmetic goals and budget. If you are interested in a hair restoration plan or procedure, contact the Toronto Hair Transplant Clinic to schedule your consultation.