Toronto Hair Loss Treatments – Beware of False Advertising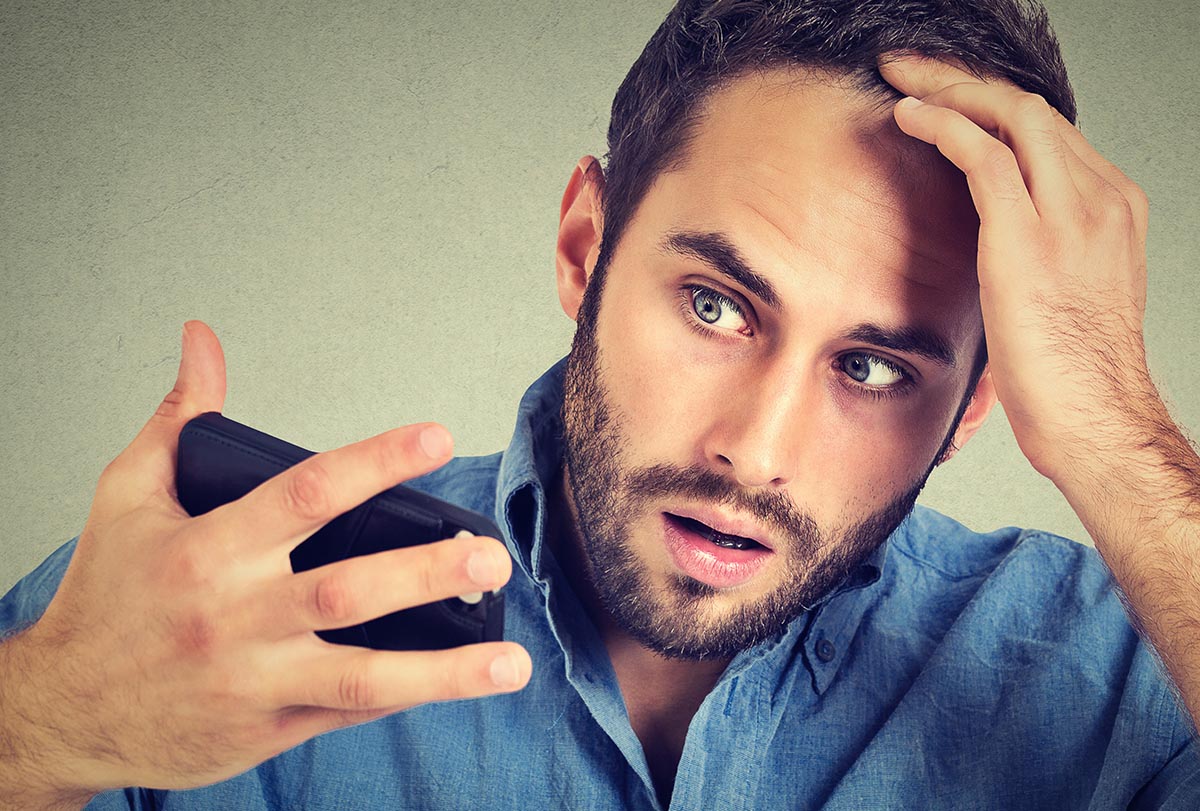 We've been on a historical quest to fight inevitable baldness since nearly the beginning of recorded time. With an estimated profit of $3.6 billion annually in the U.S., the hair loss industry has a ready and willing market of mostly men who would do anything to keep their hair. Toronto hair loss clinics are thriving, but there's also a lucrative online industry falsely advertising "cures" coming in from all around the world.
It can be a decidedly unethical arena for pushing products that don't work as advertised. Some of the biggest sellers, Rogaine and Propecia, can slow the loss of hair for a percentage of users, but they don't "restore" the hair. They also carry side effects. Until recently, hair transplant surgery, wigs, and two medications were the only treatments to make any real difference for balding people. There are a multitude of supplements, potions, pills, and gimmicky devices added to the mix that only cost money and disappoint.
How can you avoid investing in a scam? It's not fair, yet the reality is that people will sell you things that don't work. Your best line of defence is to be well-informed about what causes hair loss and know the scientific basis for the treatments that do produce genuine effects. Here we'll outline some of the treatments marketed for hair loss in Toronto which you should walk right past to save money, time, and frustration. (Don't worry. We'll also let you know which tried and true methods to restore hair, plus recent innovations, are well worth your investment.)
A persistent myth that too many men and women believe is that their hair falls out because they're not stimulating enough circulation or because they're impeding flow by wearing hats. That's false. Androgenic alopecia, which is the leading cause of progressive hair loss in both sexes, occurs because of genetic, inherited sensitivity to DHT. The DHT hormone is a by-product of testosterone. Some people have follicular weakness to it, while others don't. The predictable pattern of shedding noted by most guys gives rise to the nickname "male pattern baldness". The tell-tale horseshoe-shaped patch of remaining hairs provides good donor follicles for hair transplants. The hair that remains at the back and sides of the head is typically resistant to DHT.
Here's what you can't do: fight DHT with scalp massages, special brushes, magnets, or vibrating combs designed to increase blood flow. There's not necessarily anything wrong with your blood circulation, and a brush would not be the solution for that. It sounds simple and promising, but that is definitely a "too-good-to-be-true" situation. Massage your scalp if you like though, because it feels great and relieves stress.
Herbal supplements and "hair growth pills"
Plenty of vitamins and herbal supplements are beneficial for health or at least not harmful. The problem with taking them for hair growth is that consuming vitamins and herbs can't counteract the hereditary, hormonal reasons for progressive baldness.
If you happen to be one of the few people whose hair has fallen out due to malnutrition, a medically supervised, restorative nutritional plan would be in order. Vitamins and formulas like biotin, marine-derived proteins, and horsetail can potentially improve the quality, shine, and strength of your hair. But if you're experiencing progressive balding, they can't prevent it, unfortunately.
Health Canada and the U.S. Food and Drug Administration (FDA) does a pretty good job of regulating products to ensure they are safe, but be aware that not all "natural" products are held to the same standard. Ordering supplements from outside the country can expose you to unknown ingredients and formulations. It's important to understand what you're taking and what the effects are, because "natural" doesn't necessarily mean safe. Powerful medicine comes from nature, and herbs carry risks of side effects too. It's a good idea to consult with your primary care physician if you plan to start a new supplement treatment, especially if you have any existing conditions or take prescription medication.
Hair loss treatments can often be done in conjunction with this Health Canada-approved medication. People will sometimes undergo hair transplant surgery and continue to take it because one of its benefits is the ability to slow hair loss. And they want to keep the hair they have. Unfortunately, minoxidil isn't useful for everyone. Some estimates suggest that only 38.3% of patients on average will see the intended results.
An active enzyme, "sulfotransferase", must be present for the follicles to respond to the drug. The enzyme converts minoxidil into a chemical that stimulates the follicles. Other physical, individual factors affect how well the drug works, and it's only in very rare cases that hair is shown to grow back.
This means that for all its advertising, there's a high chance that minoxidil won't help you. And there's a 100% chance that if it does halt your hair loss, the effects will disappear as soon as you discontinue it. Medications designed to prevent hair loss in Toronto come with inevitable side effect potential. These range from mild to serious, so be sure to discuss the risks and benefits with your doctor to help weigh options and decide what's best for you.
We promised. There's good news and real solutions you can count on
At the Toronto Hair Transplant Clinic, we offer a variety of hair loss procedures and treatments, because we serve a wide range of clients who have diverse needs. Some of our favourite options include laser light therapy, PRP for the scalp, and FUE hair transplants.
PRP (platelet rich plasma therapy) is used as a stand-alone treatment or to boost the effects of a hair transplant. Derived from a small sample of your own blood, this product may sound strange, but it's a powerful and entirely natural way to accelerate your follicle healing or hair growth. Platelets contain growth factors that assist with rapid healing, decrease inflammation, and stimulate cells. When introduced to shrinking, dormant hair follicles, PRP leads to faster, denser, and longer hair. It can't regrow strands where there are no active follicles, but when the hair is thinning, shedding, and slowing down, it can stimulate positive, visible changes.
The best part about this solution is that it's safe for virtually anyone and carries almost no risks. It's toxin and drug-free and comes from your own body, so there's no risk of rejection, allergy, or infection from foreign material. Another plus is that it doesn't require downtime. There's no sign of a procedure and no aftercare post-treatment, so you can book a session over your lunch break, then get back to your day. We'll likely recommend you start with a series of 3 appointments scheduled 1 month apart for optimal results.
Treat hair loss with laser light therapy
Our Toronto hair loss clinic offers low-level laser therapy (LLLT). It's a painless, non-surgical and non-invasive hair loss treatment designed to stimulate hair growth. It also has a long-standing track record of efficacy in the medical community. It's been used to treat arthritis, joint pain, and now hair loss. The mode of action utilizes red and near-infrared (NIR) light. It's referred to as "low-level" because the light energy densities are low compared with other forms of laser treatment used for ablation. The light stimulates cellular metabolism required for hair growth.
Also known as "cold laser", LLLT was first tested and revealed promising results on animals decades ago. Emitting a light wavelength of 650 nm, the laser feels cold and doesn't cause any discomfort or harm to the skin. Combatting the effects of DHT deep at the root is effective for many of our clients. You'll apply the specially designed headpiece and enjoy a comfortable session with no discomfort or downtime.
FUE hair transplant for hair loss in Toronto
This is the gold standard hair loss treatment for dramatic, effective, and permanent hair restoration. Follicular unit extraction (FUE) has advanced so much in recent years that the tiniest micro-hair grafts can be extracted one at a time and leave virtually no trace. The incisions are made with a specialized FUE device that punches out just a hair or two and the surrounding supportive tissue. Less than 1 mm in diameter, the tiny holes close fast and heal so flawlessly that you can even wear super-short hairstyles after your procedure, and no one will know.
For people who have visible thinning or baldness at the crown, a receding hairline, or even patches in their facial hair, FUE is the optimal fix. Not everyone is a good candidate for this hair loss treatment, so keep in mind that an in-person consultation is your best way to be assessed and to learn about your type and stage of hair loss.
At the Toronto Hair Transplant Clinic, we'll welcome you to meet with Dr. Cory Torgerson for a no-obligation consultation where you'll learn about your best options for hair restoration. He's a Royal College-certified facial cosmetic surgeon and hair transplant expert. We believe it's essential for patients to have all the facts and understand their choices before diving in. Our clients typically commit to significant independent research before choosing their treatment, and we're happy to provide support and guidance the whole way.
We look forward to meeting you and helping you discover the best investment of time and money when it comes to revitalizing your hair and your confidence.